First Evapcold Units Successfully Installed in Utah
Since its founding in 1901, The Western Gateway Storage Company in Ogden, Utah, has provided innovative cold storage solutions to Utah and the surrounding states while growing and expanding as a company, priding themselves on their modern facilities and commitment to customer satisfaction. Western Gateway's commitment to keep their customers' inventories, safe, clean, and cold, while investing in the most state of the art and efficient technology led them to EVAPCO, Inc. and the Evapcold Refrigeration System. In April, 2016, Western Gateway became the first end user to install the Evapcold Low Charge Ammonia Packaged Refrigeration System, installing two Evapcold Systems in their new cold storage facility in Ogden, Utah.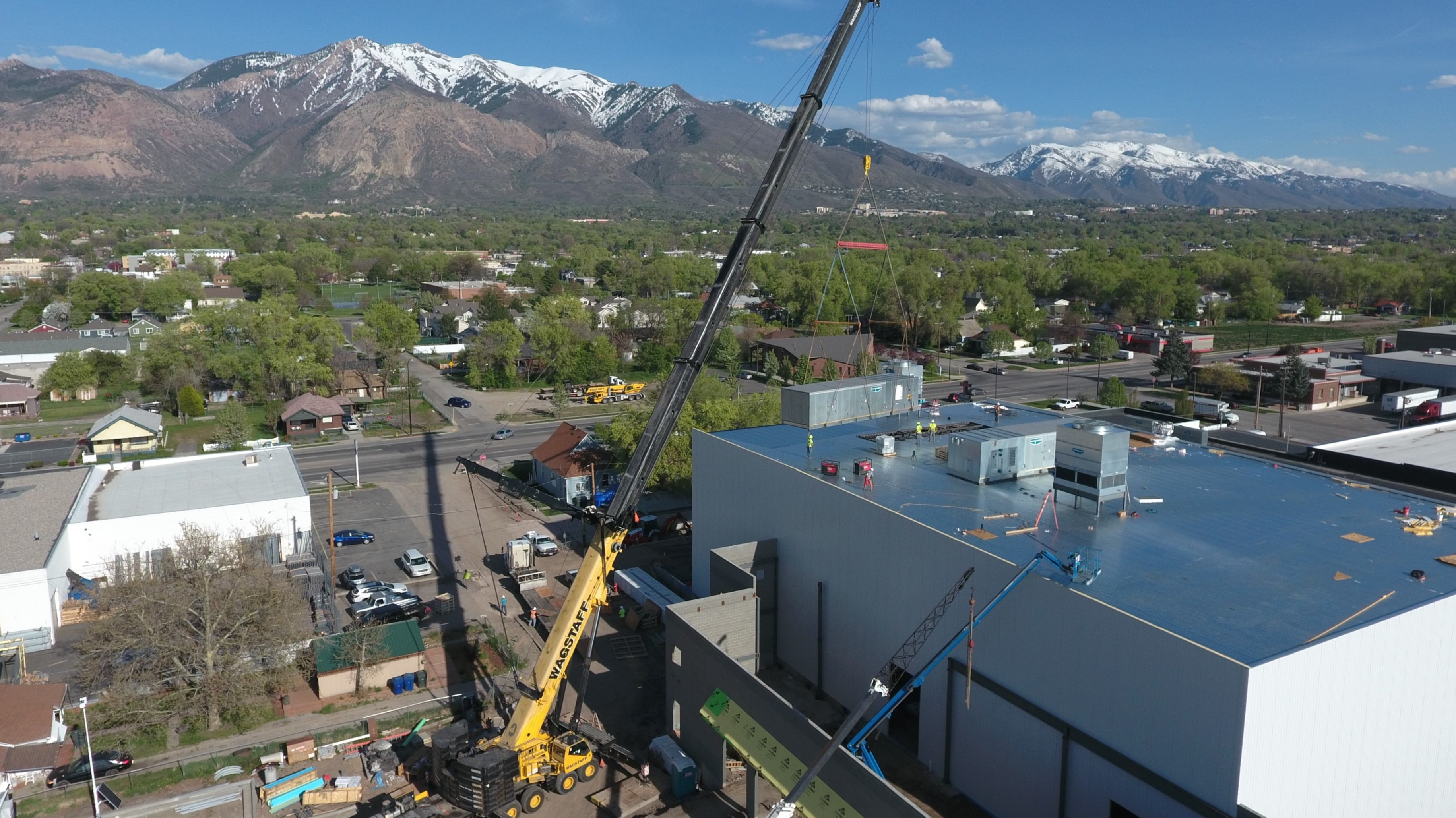 When Western Gateway found themselves in the market for a refrigeration system for their new cold storage facility, they looked for an innovative and efficient system, one that was relatively simple to maintain, and had a short installation time. Western Gateway President, David Bornemeier and Jack Gage, owner of Jack Gage Refrigeration, believe that the Evapcold Refrigeration System from EVAPCO provides significant advantages over a traditional centralized ammonia refrigeration system as well as fulfills all of Bornemeier's requirements. But it took them awhile to reach this decision. Bornemeier and Gage went through either different designs before choosing Evapcold. "We have a far superior refrigeration design now in comparison to the systems we had considered before," Bornemeier said, "I feel like we have the Ferrari of the heat transfer industry."
For Bornemeier and Gage, one of the most significant advantages Evapcold has over a traditional central system is the reduced installation time for Evapcold compared to a customized system. According to Gage, a custom-built central system typically takes 4,000 hours to install, while he only anticipated 300 hours of installation for the roof-mounted Evapcold system. For Western Gateway, this reduced installation time meant that they were able to build their new cold storage facility while their Evapcold packaged refrigeration systems were being built, whereas a customized system would have to wait for the facility to be built before its installation could begin.
Western Gateway also chose the Evapcold system because the low-charge ammonia system is safer and will reduce Western Gateway's regulatory burden and compliance cost. While a centralized, stick-built system would have piped thousands of pounds of ammonia throughout the entire Western Gateway facility, the Evapcold system contains the ammonia in just two sites, the Evapcold systems located on the building's roof, and uses only 4 pounds of ammonia per ton of refrigeration.
Gage also explained that the Evapcold system is expected to require significantly less maintenance than a traditional system, "The [Evapcold] equipment is smaller, and there are fewer parts, so we expect maintenance costs to be lower." Additionally, the Evapcold system can be installed on the roof, which saves valuable floor space for Western Gateway. On top of all of this, Western Gateway appreciated Evapcold's ease of operation and has one manual for operation and maintenance procedures. EVAPCO has a single-source responsibility for the complete Evapcold system design, factory assembly, operation, and safety.
In mid-December, Bornemeier, his wife, Western Gateway's CEO Becky Bornemeier, and their three children, traveled to Taneytown, MD to visit EVAPCO, Inc. World Headquarters and factory and ceremoniously turn the final bolt on their Evapcold packaged unit. The Evapcold unit, one of two low charge units destined for Western Gateway Storage, was shipped to Taneytown, MD from the EVAPCOLD factory in Greenup, Illinois, where both Evapcold units were originally manufactured. Once in Taneytown, the Evapcold unit was put through rigorous testing in EVAPCO's state-of-the-art Research and Development Laboratory. The Bornemeiers, along with contractor Jack Gage, were able to walk inside the Evapcold unit and receive a quick tour before the unit was turned on for the first time. EVAPCO Vice President Kurt Liebendorfer then showed the group the cold air chamber, to which David Bornemeier said, "I love feeling the cold air!"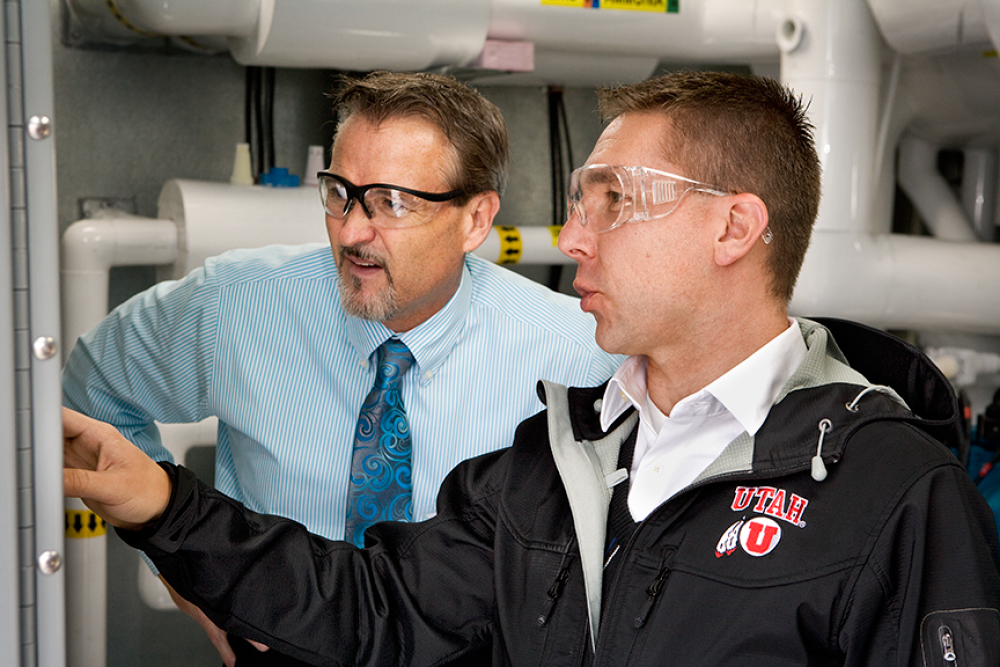 For Western Gateway, the Evapcold low charge system was the only choice to accomplish their goals and fulfill their commitment to efficiency, safety, and innovation, but Western Gateway was also attracted to EVAPCO because of its customer service and commitment to shared values. When Western Gateway's CEO Becky Bornemeier learned that many EVAPCO employees are the second-generation of their family to work at EVAPCO she said, "I like that EVAPCO is family-oriented, and they take care of their employees, and they extend their arms out further and take care of their customers. That's how we run our business."
Before their visit ended, EVAPCO President and CEO Bill Bartley stopped by to say hello to the group. He handed the Bornemeiers his card and told them to call him any time, day or night, if they needed anything.
On April 21st, both Evapcold units and two EVAPCO fluid coolers arrived at Western Gateway Storage and were mounted onto structural roof steel in less than 6 hours. In late May, when the new cold storage building was ready, Jack R. Gage Refrigeration completed the installation of the Evapcold units in just a few weeks.
Successful startup of both Evapcold units occurred on June 17th. Both units performed well under 100°F "hot-start" summer ambient conditions. The Evapcold units successfully pulled the warehouse temperature to a -10°F design temperature incrementally over a 10 day period with zero problems. In fact, after such a successful startup, Bornemeier subsequently wanted to see if the Evapcold units could pull his new building down to -20°F, in the event he has customers that require an even colder temperature. The Evapcold units easily pulled the building temperature down to -20°F and passed his test. The new building and Evapcold units are now successfully running at -10°F design room temperature.
According to David Bornemeier "Western Gateway's mission is to keep our customer's inventory Safe, Clean, and Cold. Having now run the Evapcold units in our freezer, we are reminded of all the reasons why we chose EVAPCO. With a lower ammonia charge contained totally outside the freezer space (on the roof), we are a Safer AND Cleaner operation than we otherwise would have been with an antiquated stick-built system. We were also pleased to find our facility easily maintained a colder temperature than we originally specified.
It's one thing for a company to say they can deliver, but it takes all the right people to make it happen. On all accounts our experience with EVAPCO, from initial design and estimating to install and commissioning, has been a pleasure and we look forward to our next project."